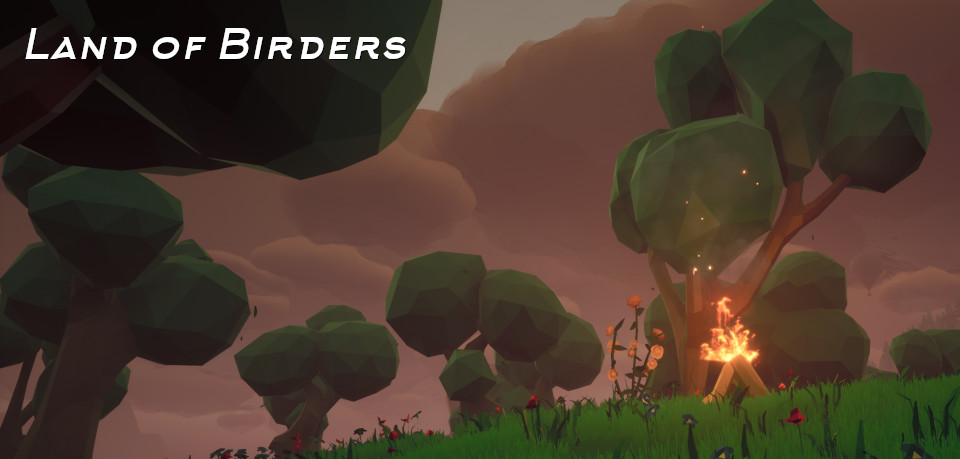 Land of Birders
The new update has improvements in graphics, bug fixes, optimization, gameplay improvements, adding new localization, and more.
Graphics
Added Cartoon Grass, Water, effect of thunder.
Improved Clouds Quality, Shadow Detail.
Removed DoF, SSAO, Chromatic Aberration, Foliage Density, Flying Birds, Dynamic Tree Leafs, Highlight Items, Butterflies, Additional Fog (Medium / High), Falling Leaves (with lying on the ground).
Tonemapper changes during the day.
Mobile
Added View Mode.
For Lite version removed Rain, Dusts, Light (except Candle, Bonfire, Pumpkins), Additional Landscapes, High Clouds, Falling Leaves Collision, Additional Fog (Low), changing view mode.
PC
Added DFAO, SSR, Cloud Shadows, Unreal option.
Optimization
Added setting for low light quality. The main difference is that this light is static and for phones, the number of accepted light sources per surface is 1 instead of 4.
Realised Level Streaming Volumes. In addition to loading houses, graphics settings are loaded, such as Rain, Ambient Sounds, rain Sounds, Landscape, Grass, Dust, Fog (reduced RAM consumption by approximately 120 MB).
Removed unwanted shaders for each platform and revised package resources.
Gameplay
Added Cake Supplies.
Added a Pomegranate.
Added a Wooden and Stone Tower.
Added a visual indicator of the point of impact of the projectile.
Added movement when jumping or falling.
Added spread.
Added the Slingshot item.
Added the ability to have a second life by placing an egg.
At a sufficient distance, the damage will be reduced by half.
Disabled the camera lag. There was a camera lag in the flight.
If you don't have enough players for the Battle Royale, join one of the 4 rooms. Try the game mechanics with your friend or another player.
If the entire room is full, the game will automatically start. Otherwise, it is expected to confirm the readiness of two or more players.
Improved display of the flight path of objects that can be thrown.
Improved handling of recharge. When you change an item, the recharge is reset. Recharge is processed on the server. When cooldown you can not take off also the speed of movement is slowed down.
On phones, added HUD customization, without changing Move input.
Redesigned the flight system. Now the bird has 3 flight cells, when used, your bird can fly for 15 seconds. It is restored in 45 seconds.
Removed resetting the camera rotation after completing the flight.
Removed the swing of the camera when walking.
You can't run when aiming.
Others
Added hats and decorations for birds in the wardrobe.
Added the ability to switch languages, such as Chinese, French, German, Italian, Japanese, Spanish, Turkish.
Equipped wardrobe.
Improved display of attributes.
Removed render OpenGL ES3.1.
The server knows how many players should be in the match, and as soon as all players are connected, the timer resets the countdown to 3 seconds.
Files
Android-Lite-arm64.apk
317 MB
Dec 13, 2020
Android-Lite-armv7.apk
313 MB
Dec 13, 2020